MARINE GASKETS AND SEALS
Marine gaskets are custom cut for engine hatches and portholes. Doorseals are made from a range of sections and extrusions and they have been supplied to the latest Royal navy aircraft carrier. Our gaskets also seal marine quality solar panel lights.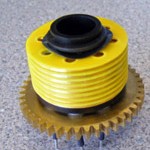 Slip ring spacers are made for underwater cameras from Polypropylene at high tolerances.
We are also able to supply a range of non-slip marine rubber and cut rubber matting.